Case Study: Enhancing User Experience and Mobile-Friendliness for Hilltop Apartments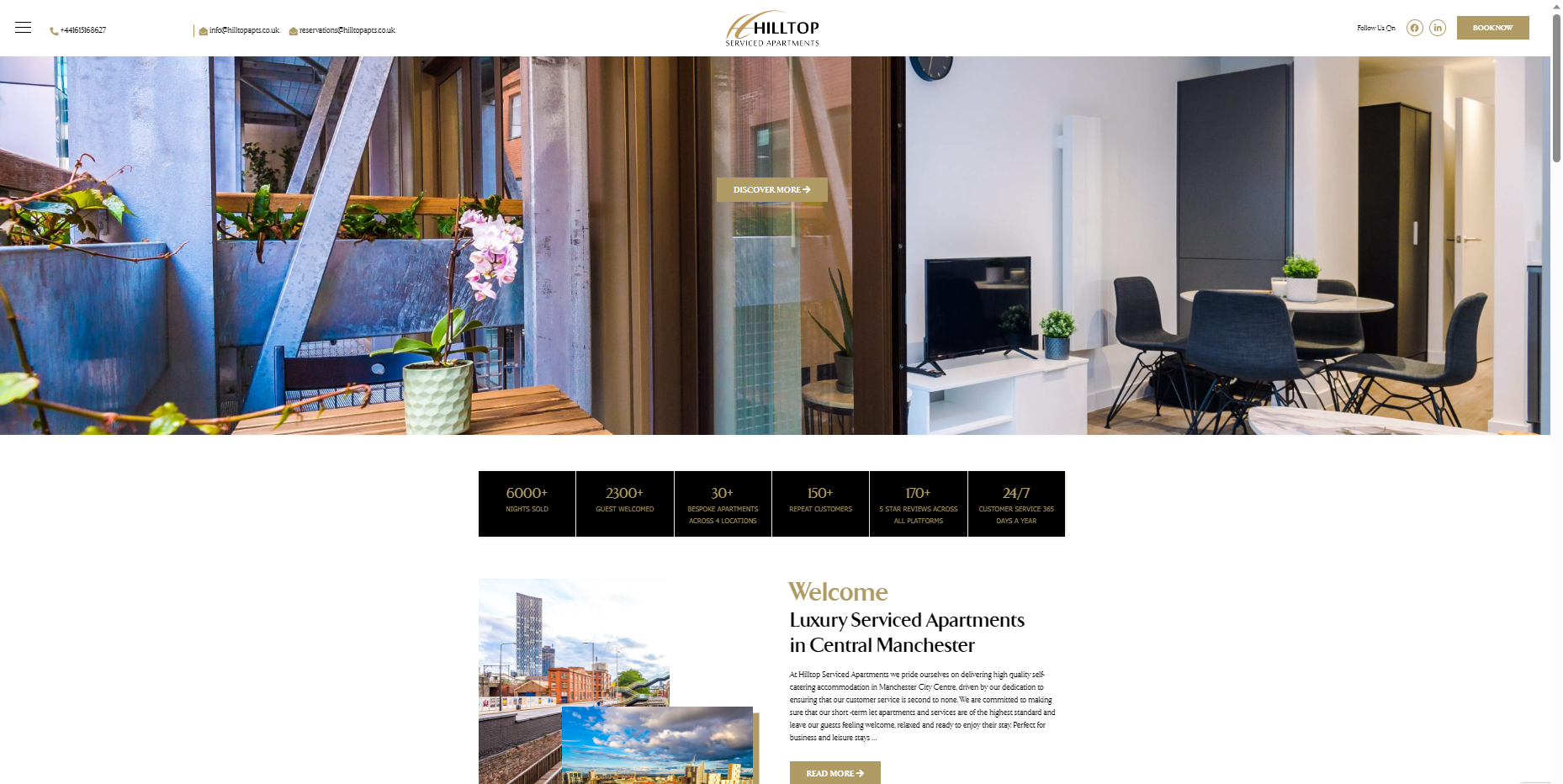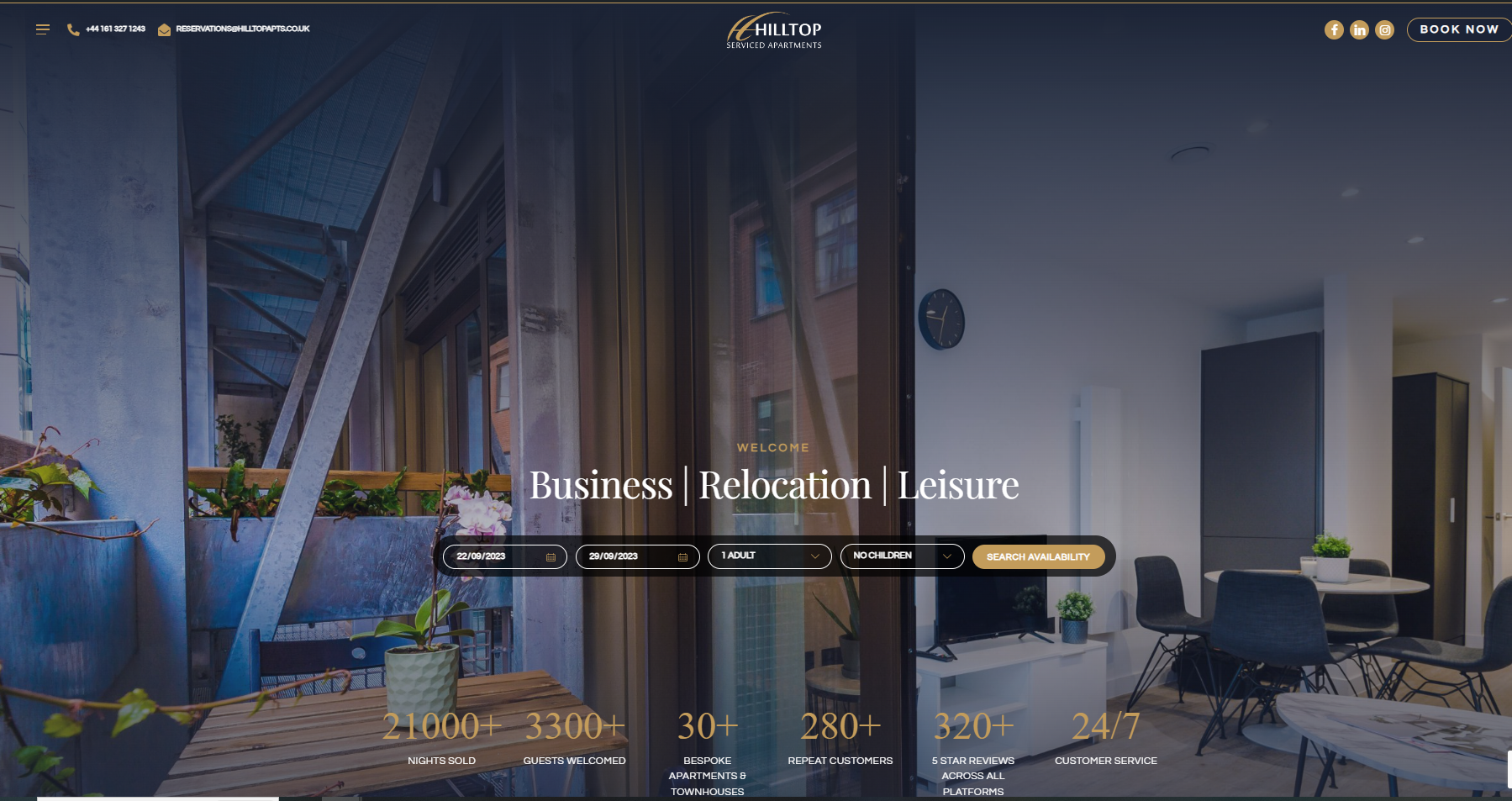 Hilltop Serviced Apartments, provide short and extended stays across Greater and Central Manchester, catering to corporate travellers relocating to the city for work. Hilltop recognised the need to elevate the user experience on their website, prompting a strategic redesign, with a focus on comfort and convenience, as the corporate hospitality sector continues to evolve.
On the other hand, Website4Bookings is a multifaceted firm specialising in digital marketing, web design, social media management, content creation, and other services. W4B has a proven track record of assisting 7-figure short-let rental firms in achieving significant growth, built on two decades of experience in the serviced accommodation sector and property ownership.
This case study focuses on the collaboration between Hilltop SA and W4B, in transforming the website's UX design and mobile-friendly features. The goal has been to make the company's unique qualities more accessible and engaging for users. The redesign has also made it easier for users to understand Hilltop's distinguishing features by streamlining the presentation and creating an intuitive pathway for new and returning visitors.
Redesigning the Hilltop Apartments Website for Improved User Experience
1. Responsive Design Implementation
Employing a responsive design approach, the new Hilltop website automatically adjusts its graphical user interface (GUI) to different screen sizes. This technique not only streamlined the design process, but it also addressed the previous version's issues with excessive blank space and slow loading times.
The W4B Developer team used the Salient theme to migrate the previously custom-designed Hilltop website to WordPress, making minor changes and future design adaptations easier to carry out using the theme's element blocks. This change enables the Hilltop team to safely interact with WordPress's user-friendly backend development tools, even with only a fundamental knowledge of HTML.
By doing this, the W4B have successfully reduced the need for difficult and technically demanding interventions, giving Hilltop more control over the design and functionality of their website. Their increased autonomy is a result of this greater freedom, which also guarantees that the website will continue to be flexible and sensitive to its users' changing needs.
2. Adapting the Design for a Mobile-Friendly Website
Mobile UX design is critical for providing a consistent user experience for visitors who access websites via smartphones, tablets, and other mobile devices. Recognising the importance of a user-friendly and intuitive design, W4B updated Hilltop's website to make it more mobile-responsive.
This included making the header sticky for mobile users, adding a toggle option on property pages for switching between list and map views, and formatting the footer to fit the mobile version. These changes aim to reduce loading times and provide an optimised experience for mobile users, while new certifications have been added to the footer for increased exposure in the serviced apartments industry.
3. Centralised Property Page for Simplified Navigation
The redesign also addressed the confusion caused by the old website's two versions of the property locations page. W4B's team consolidated map views, Matterport 360 videos, property descriptions and reviews into a single property page.
A photo gallery is also included at the top of the Building page, which users can click through to view photos of the apartments before booking. Similarly, the Property page also has galleries for each unit, allowing users to compare apartments in the same building and choose the one that best suits their needs.
The team worked to develop simplified navigation and improved user experience by centralising property information. After testing the new website with a controlled audience, W4B found that users found it simple to explore, interact with, and develop a thorough understanding of each property listing. This has, in turn, led to higher levels of engagement and lower bounce rates, keeping users on the site for longer periods of time and increasing the probability of securing direct bookings through the website.
4. Integration of Enquiry Form and Technical Enhancements
W4B included an enquiry form (Ninja forms) on both the mobile and desktop versions of the Hilltop website. This feature not only improved the user experience of the website, but it also perfectly harmonised with the newly revised style guide, ensuring a consistent and on-brand appearance and feel.
The teams also worked closely to address issues with live bookings, API and booking engine integration, effectively resolving technical challenges and ensuring smooth functionality.
For instance, one notable accomplishment was the successful resolution of technical issues in the booking process. The previous website had multiple touch-points leading to interlinked or duplicate pages, confusing the user and leading to a high bounce rate as they searched for a simpler booking process.
On the other hand, the new website has been updated specifically to streamline the user experience from the search page (where they may learn more about each place) to the enquiry or booking pages. This is intended to maximise customer pleasure when engaging with the website by designing a thorough flow that takes into account each stage leading up to conversion. The changes made have resulted in a website that not only looks fantastic but also functions effectively, providing consumers with an enjoyable experience and increasing the conversion rate.
5. Copywriting and SEO Optimisation
 Beyond web design elements, the redesign also included developing a cohesive copywriting and SEO strategy for Hilltop's online presence.
The W4B team produced and edited web copy and property descriptions, keeping website readability and SEO in mind. We carried out keyword research around the business services to ensure that the website content aligned with relevant search terms, improving its ranking on search engines. Additionally, we included local attractions, entertainment venues and business districts, providing valuable information for visitors exploring Manchester while also focusing on online SEO. 
A Redesign That Reflects Your Brand Identity 
Hilltop Apartments and W4B's collaboration has resulted in a remarkable transformation of the website's user experience and mobile friendly features. The new website strikes a balance between aesthetics and functionality by reimagining the layout, optimising for mobile users, and addressing technical and content-related challenges.  
Following this website redesign, Hilltop Apartments is well-positioned to provide an exceptional digital experience that reflects their in-house services to guests during their stay, with a design that caters to over 50% of mobile users and offers improved navigation and a streamlined booking process.